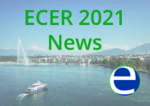 On 6 and 7 september, the TeachersCareers team will present at the ECER 2021 conference ( https://eera-ecer.de/ecer-2021-geneva/)
They will present the latest outputs of the projet on teachers careers in France and England as part of a international symposium gathering contributions from Chile, Japan, South Korea and the US.
The symposium will look at teacher career reforms and the development of new career models in a global and comparative perspective, encompassing employment and working conditions, labour market regulation, entry routes into the profession, and various forms of mobility patterns.
Cécile Mathou, Marc Sarazin and Xavier Dumay will present their work on the diversification of career patterns and the fragmentation of the teaching profession in England based on 47 interviews with teachers carried out in these 8 secondary schools in London.
Caroline Bertron Géraldine Farges and Anne-Elise Velu will present their paper "Committing to the Job. Analysing the Spectrum of Teaching Careers in France from the Perspectives of Access, Mobility and Profession" drawing on a qualitative study conducted in the Lyon area in France in 2018.
Programme:
Part I Reconfiguration and Fragmentation of Teaching Careers, in Europe and Beyond
https://eera-ecer.de/ecer-programmes/conference/26/session/15898/
23 SES 04 B
Time:
Monday 06.09, 16:00-17:30
Part II, Tuesday 07.09, 16:00-17:30
https://eera-ecer.de/ecer-programmes/conference/26/session/15905/